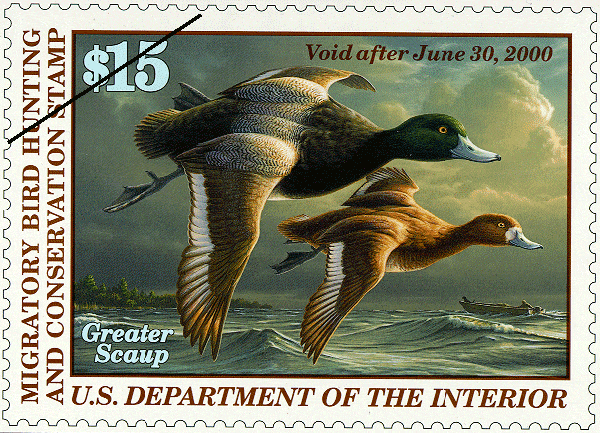 A great + green reason to bring back stamp collecting as a national hobby –
The Fish and Wildlife Service uses revenue from Duck Stamps to purchase or lease waterfowl habitat. During it's nearly 80 year history, the Duck Stamp Program has generated over $750 million, which has been used to protect over 5.3 million acres of waterfowl habitat. Thanks to the Duck Stamp program, generations of hunters and outdoorsmen have pristine locales all over the U.S. to hunt, fish, hike, and camp.

Even if you don't hunt, you can still benefit from purchasing Duck Stamps. Stamp holders get free access to National Wildlife Refuges the entire year. America's refuges provide excellent hunting, fishing, and hiking opportunities year round.That's a pretty good deal for $15.
You can purchase Duck Stamps at most places that sell hunting and fishing licenses and at select Post Offices. The Duck Stamp program started back in 1934, and the stamps still serve as the license to hunt migratory waterfowl. Working with the U.S. Postal Service, the U.S. Fish and Wildlife Service commissions an artist to create a pictorial scene featuring one of North America's many migratory waterfowls.The first Duck Stamp cost $1. Today, they're priced at $15.
Debating whether or not stamp collecting is a man's hobby is a whole other issue… maybe more of a lost gentleman's hobby…
[ via Art of Manliness ]